Dare To Dream
Our organization POWER-Platform of Women Entrepreneurs Regd is a NGO started on 8-03-2009 on International Women's Day. The name POWER was coined by our founder member Mrs. Shyamala Nayak. The POWER logo denotes a balance between home and work – the ethos of a working woman.
We started with 25 members and we are now 90 members strong.
How did the idea take root ?
Entrepreneurship is an effective means to empower women, there is no denying this and it's encouraging to note that women entrepreneurs are growing at a steady pace over the last few years. It would be ridiculous to let this 50 % (women) of the population blessed with a natural talent for crisis management, communication and managerial skills go to waste.
This was realized when a handful of us began attending a series of business connected programs, workshops and seminars organized for SME's (Small and Middle Enterprises) by the faculty at MIM (Manipal Institute of Management) under the able leadership of Dr. A. P. Achar, Head SME programs.
We realized while attending such programs that
It would benefit all entrepreneurs if we come together and connect to each other
Help aspiring entrepreneurs to realize their entrepreneurial dreams.
Thus POWER- PLATFORM OF WOMEN ENTREPRENEURS Regd with the motto DARE to DREAM was started with 11 founder members – Renu Jayaram, Shyamala Nayak, Sarita Santosh, Aruna Shenoy, Saroja Acharya, Thara Thimmaiah, Rachna Arora, Renuka Pai, Sadhana Mallya ,Leela Bhat & Veena Kudva. It is registered under the Karnataka Societies Reg act.
With increase in strength comes different strategies that are necessary to hold the organization together and move forward. Each of our Presidents with her team have been instrumental in giving the organization a new direction and strength. Until 2019 each President took care of the organization for 2 years. (Following the example of our Udupi Mutts). From the year 2019 the term of the President is one year.
Founder Members of POWER
Renu Jayaram
Sadhana Mallya
Sarita Santosh
Shyamala Nayak
Tara Thimmaiah
Aruna Shenoy
Saroja Acharya
Renuka Pai
Rachana Arora
Veena Kudva
Leela Bhat
Lifetime Members of POWER
Deena Prabhakar
Divyarani Pradeep
Dr. Gayathri Raja
Prasanna Padmaraj
Late Savita Shastri
Suguna Suvarna
Supriya Raj
Suchitra Shetty
---
A Bird's eye view of the past 8 years :
The First Year: 2009 to 2010
2009
President
Mrs. Renu Jayaram
Secretary
Ms. Shyamala Nayak
Treasurer
Mrs. Aruna Shenoy
2010
President
Mrs. Renu Jayaram
Secretary
Ms. Preethi Hegde
Treasurer
Ms. Thara Thimmaiah
The First President Mrs. Renu Jayaram, MBA,is a Power house of energy, intelligence, maturity and sincerity. She was the driving force behind POWER. She runs the Jaydev Motors showroom selling two wheelers with her husband. She is a much sought after speaker at management institutes, schools and functions. She did her MBA after two children. An active Rotarian she has the ability to be everywhere at the same time. Time waits for her.
In the beginning, final year students of MIM were part of the team. We had Ms. Akshatha Rao as Jt. Secretary and Jenifer Dias as Vice president. They did all the running around and arranging things that we didn't know how to do in the beginning. We had indirectly tapped the youth power even then. We met once a month at first at MIM AC Seminar Room and later at Sonia Clinic, Conference Hall. Thus, started POWER officially.
During the first two years we listened to various business related topics with the help of director of MIM Dr. Varamballi and Dr. Ananth Padmanabha Achar our mentor. Visit to AWAKE (Association of Women Entrepreneurs of Karnataka), a similar organization gave us more inputs on the running of such organizations & gave us more confidence & ideas to do more good to women in businesses & connected us to right enterprising women like Dr. Madhura Chatrapathy, Revathy Venkatraman, Uma Reddy to name a few.
The members had a taste of conducting fairs in 2010 March at Gramothsava, A rural trade fair conducted by MIM with a few Entrepreneurs which paved the way for POWER PARBA (A big Fair conducted by POWER) in 2016.
Visit to Rudset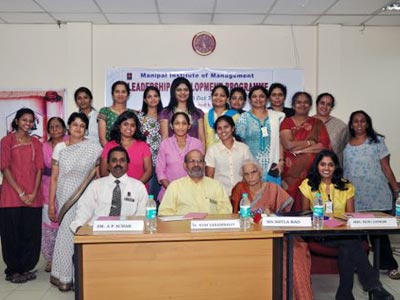 With Dr. Varamballi & Dr. Achar
---
Second Team: 2011 to 2013
President
Mrs. Sadhana Mallya
Secretary
Ms. Anitha Nayak
Treasurer
Mrs. Deena Prabhakar
Treasurer
Mrs. Prasanna Padmaraj
Mrs. Sadhana Mallya was our Second President. She is the Founder and Managing trustee of Adithi Prathishtan (Giving vocational training to mentally challenged children) and a Clairvoyant. During her tenure, she strived to establish rapport with women entrepreneurs in and around Udupi. Went beyond recruiting members to the club to helping the women outside the club in the rural areas. The fisher women society, a strong organization in Malpe was recognized. The Government office list of women who have taken loans to start businesses was tapped and they contacted to see how best to learn from them or help them.
Mrs. Sadhana Mallya was selected for the 10000 K Women Entrepreneurship Graduation Programme organized by Goldman Sachs and AIMS (Acharya Institute Management & Sciences Bangalore). It was a forty five day program and brought back new ideas to POWER and thus connecting organizations in Bangalore. She also streamlined the financial accounts, audits and registration formalities with various departments. For all this she was rightfully recognized by FKCCI Bangalore (Federation of Karnataka Chambers of Commerce and Industry) and Chamber of Commerce, Udupi. Thus POWER was recognised as an association to reckon with.
FKCCI award 2012 - Mrs. Sadhana Kini
With AWAKE
---
Third Team: 2013 to 2015
President
Mrs. Divya Pradeep
Secretary
Mrs. Deena Prabhakar
Treasurer
Mrs. Lakshmi Rao
President Mrs. Divya Pradeep is the Founder, Lifeline Edutech, Ajjarkad, Udupi (Education and Training Consultancy). She is also visiting faculty in International Marketing at KS Hegde Management Institute NITTE. She is the member of Department of Information and Public Relations, Udupi, Government of India. She has also won Young woman achiever business award from Chamber of Commerce 2012 and the FKCCI Best woman Entrepreneur Award 2013.
Visits to Suzlon Windpower unit at Padubidri , Manjunath eye Hospital, Shankar Roofing systems, WGSHA Manipal, Mahila Supplementary nutrition Training and Production Center, Kundapur were a few because of which many women have become part of POWER.
Divya Pradeep, nearly doubled the membership and made a broad base for networking. The members are of different types doing different things and in her own words she made 'great friends'. You want a cake made there is some one. You want to fabrication done –there is someone. You want a holiday planned there is some one. You want a crèche – there is someone in POWER who will do it for u. So this networking was made more meaningful in Divya's time and listening to each new member is an inspiration and a learning.
Visit to Shankar roofing premises
At Suzlon Padubidri socio corporate
---
Fourth Team: 2015 to 2017
President
Mrs. Sarita Santosh
Secretary
Mrs. Shruthi Shenoy
Secretary
Ms. Shyamala Nayak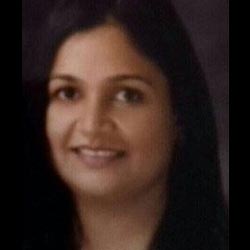 Treasurer
Ms. Niveditha Shetty
Mrs. Sarita Santosh is a first generation entrepreneur. Sunshine travels started 16 years ago from scratch. She started working from home and has now grown into a very respectable and dependable travel and tours agent. She has won the best 'Woman Entrepreneur award Udupi District at the Adani Spandana Business Excellence Award 2016 at Mangalore.
Sarita is soft spoken and has the ability to think clearly. She is very organized and knows to delegate responsibility to the right person.
During her tenure emphasis was on tapping new leaders from POWER. The first edition of 'POWER PARBA' a two day exhibition was conducted in February 2016; consisted of nearly 80 stalls exhibiting goods from women entrepreneurs . Spear headed by past President and Dynamic ladies Mrs. Renu Jayaram of Jayadev Motors, Tara Thimmaiah of Blossom School and Lakshmi Rao , Food caterer, the event showed that we could think big. The event involved an expenditure of about 4 Lakhs and created a happy and enthusiastic atmosphere. Sarita inspired bonding and 100% participation of POWER members,developed and recognized new leaders. Needless to say many entrepreneurs felt thankful.
She connected POWER to Universities and colleges like TAPMI, SOC, MGM, Dr. G Shankar's Government women's First Grade College, Ajjarkad and gave talks to the youth motivating them to be entrepreneurs. Brought forth POWER as a Organisation of importance with meetings between Sri Balachandra Jarakiholi, Minister of Urban development, Interacting with Mr. Sahu, General Manager, SIDBI (Small Industries Development Bank of India) and Vice President ,Reliance JIO Mr. Ananth Ravi and Mrs. Madhura Chatrapathy.
The first edition of POWER Summit and business excellence awards with talks by many Government officials and successful women entrepreneurs was held at Udupi. Best women entrepreneurs were recognized and honoured in different categories of business.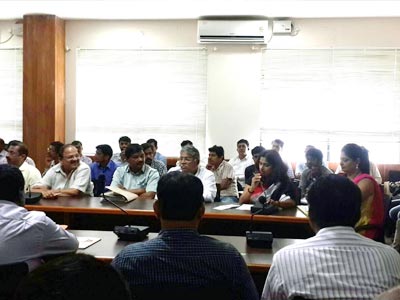 Meeting with Sri Balachandra Jarakiholi Minister for Urban Development, Department of Public Enterprises, Karnataka Urban infrastructure Development and Finance Corporation at DC Office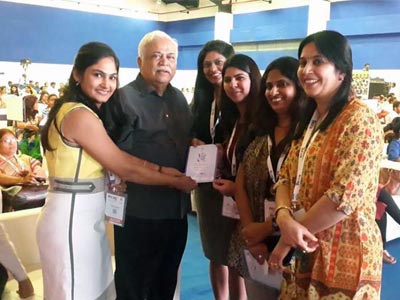 Team POWER at THINK BIG with Sri. R V Deshpande, Minister for Large & Small Scale Industries, Govt. Of Karnataka
---
Fifth Team: 2017 to 2019
President
Dr. Gayathri R.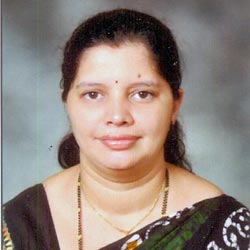 Secretary
Dr. Smitha Rajaneesh
Secretary
Ms. Poonam Shetty
Treasurer
Mrs. Deena Prabhakar
Dr. Gayathri is a periodontist and dental implantologist by profession and is the managing director Raja's Dental Care in Manipal started by her. With two little girls she is an example of managing time, family and work. She plunged into the activities of POWER like a fish takes to water. Though a petite, a small made and soft spoken person, she has the guts and push to see anything through.
Being a healthcare professional, she gave priority to health and wellness and this led to POWER getting its first ever award at the National level – The Best Oral Hygiene Day conducted by an NGO - was awarded by the Indian Society of Periodontology.
Her aim was to provide international trade fair quality stalls at the POWER Parba'18 and this led to the Parba being a much bigger and more ambitious fair with nearly 200 stalls and with the budget of nearly 18 Lakhs.She was helped in this project by the very able Organising Secretary Ms. Pushpa G Rao and a very fine treasurer Ms. Suguna Suvarna.
She has been working a lot for the youth motivating them with skill training and entrepreneurship ideas. She started a YOUTH POWER cell in Dr. G. Shankar Women's First Grade College where POWER will organize Entrepreneurship awareness and training programmes to address the unemployment issues of the youth. It was her idea to join hands with a group of 8 budding entrepreneurs to bring to Manipal its first ever Flea Market. This event too was a huge crowd puller with more than 5000 footfalls in a span of a day and a half.
She adopted a three pronged strategy to develop the ambit of POWER-
Trainings and MDPs for POWER members so that they can scale up their business.
Training for the youth so that they become job creators.
Community outreach programmes to spread awareness about POWER and also empower them with entrepreneurial skills.
She encouraged the participation of POWER members in various conferences held in India and POWER members also took advantage of participating in the Global Entrepreneurship Summit ,which was held in Hyderabad. With a few more months remaining in her tenure, she is planning the second edition of POWER Summit to co-incide with the milestone of 10 years of POWER in March 2019.
Mrs. Nirmala Sitaram Inaugration of Building - udupi chamber of commerce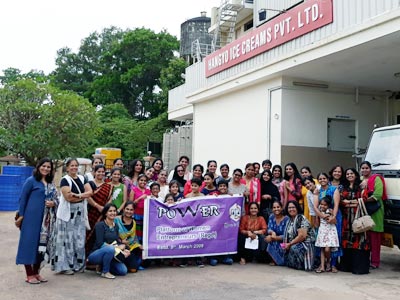 Visit to Hangyo factory
---
Sixth Team: 2019 to 2020
President
Mrs. Shruthi Shenoy
Vice-President
Mrs. Pushpa G Rao
Secretary
Mrs. Supriya Kamath
Joint Secretary
Mrs. Priya Kamath
Treasurer
Mrs. Sona Jeetan Phyade
President Ms.Shruthi G Shenoy has been a Managing Partner of Ashlesh Hotel, Manipal for over two decades. Along with running the business, she has been active socially. She was Secretary of Vishwa Konkani Sammellan (2016-2017), and President of Lions club of Manipal (2018-2019).
During her tenure Shruti interfaced with the Mangalore MSME Office to make POWER members aware of the benefits of UDYOGADHAR and handhold them through the process of registration. Around 30 members successfully obtained UDYOGADHAR for their businesses.
Emphasising rural entrepreneurship, Ms. Shruthi, along with her team, Ms. Supriya Kamath, Secretary,Ms. Laxmi Rao, then Treasure, Organising secretary Ms. Sona P and Joint Secretary, Ms. Priya kamath organized a day long marketing fair POWER Santhe. It was a platform for rural women entreprenurs, to showcase and sell products. The exhibition of 47 stalls with products like handicrafts cottage industry, nursery, agricultural products and arts and crafts made by women artists and NGOs were showcased.Talent show and Street play by RUDSETI students were also organized. Lalitha Poojary a differently-enabled girl who was identified and felicitated for her talent. She was later awarded Karnataka Rajya Puraskar. The foot fall was around 2000.
Another mile stone was the exhibition and sale of POWER Members' products at the NEW MANGLORE PORT TRUST, with the encouragement of the Port Trust. POWER Members had a first time experience of dealing with nearly 2000 International customers. Around 12 members had put up their stalls, and promoted their products.
The Third edition of POWER PARBA was on January 10th 11th and 12th at Beedangudde Bailu Ranga Mandira, Udupi. Under the able Organising Secretary Ms. Sona P, POWER Parba hosted around 232 stalls – of which 167were product stalls, 27 were food stalls and 38 stalls were DSIA, DIC, Cottage Industry and Artisans. There was also a Game zone where almost 12 schools participated. There was foot fall of 25000. Women entrepreneurs from Manglore to Hubli had put up stalls. Events like Talent show, Cookery and Drawing Competitions, Fashion show and entertainment programmes were the highlights. Students of colleges in and around Udupi Manipal gained rich experience participating as volunteers during the event.
---
Seventh Team: 2020 to 2021
President
Mrs. Pushpa G. Rao
Vice-President
Ms. Thara Thimmaiah
Secretary
Mrs. Suvarsha Minj
Joint Secretary
Mrs. Savitha Prakash Tolar
Treasurer
Mrs. Suguna Shankar Suvarna
Ms. Pushpa G Rao is the Director and CEO of General Crafters Refrigeration Pvt. Ltd. , Udupi. Her concern for welfare of the people and community is reflected in her work at POWER, Rotary Club, Inner wheel club and Vidya Poshak. She has served as President of Inner Wheel Club, Udupi, Secretary Of Rotary , Udupi and Treasurer of Mahila Samaj , Manipal. She has received the PHF Award from Rotary club. Organising events is her forte. She served as Conference Secretary of Inner Wheel Dist. Conference, Co-ordinator of Vishwa Tulu Sammelan held at Udupi and as the Organising Secretary of POWER Parba 2018. Pushpa has served as the Executive Committee member of POWER and was elected as Vice-President of POWER in 2019-20 and further elected unanimously as President of POWER for the term 2020-21. Pushpa is an embodiment of commitment and passion, honesty and integrity, confidence and humility. She will surely lead her team and help POWER grow to greater heights.